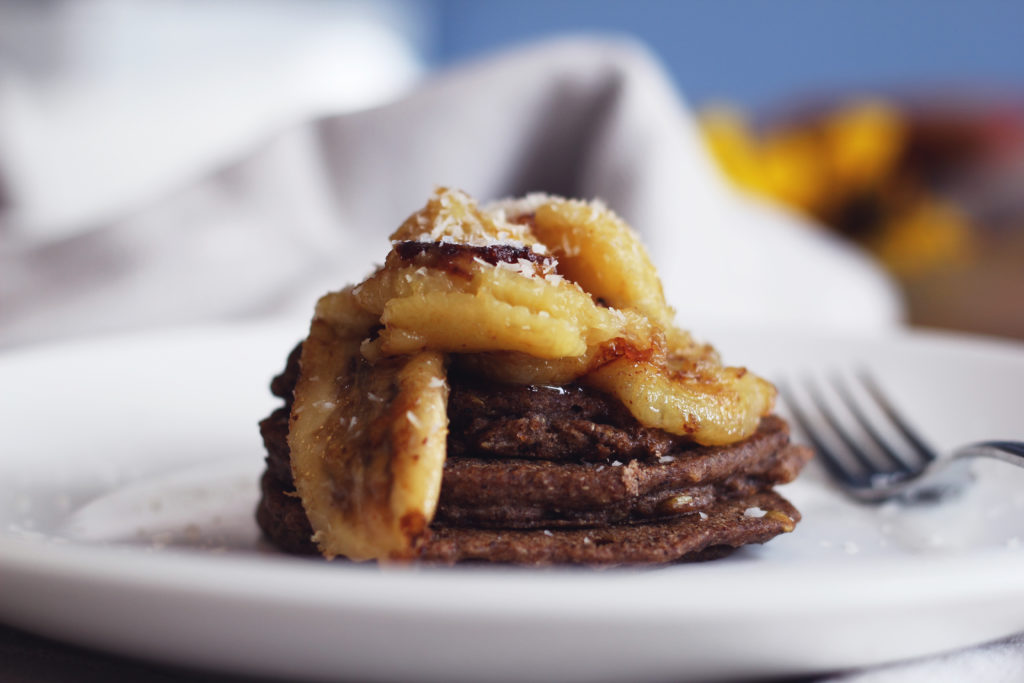 Sometimes it's fun to have a little 'extra' fun at breakfast time. Ayurvedic Porridge is my all time staple and warming light favourite, however every now and then I want something more hearty, substantial, filling and something of a different texture. These pancake fritters arrived into my creative kitchen fingertips in a flash of inspiration a couple of months ago.
I felt like something 'different', something super delicious and different… and voila, 20minutes later I was sitting at the breakfast table with this saucy, nourishing plate of yumminess infront of me!
The recipe for making these 'Fancy Breakfast Delight Fritters' is super easy. It's very similar to my buckwheat pancake recipe however a little 'chunkier' which is why I'm calling these beauties 'fritters' rather than pancakes.
Without further adew, I would like to introduce to you the recipe for this fancy breakfast delight so you can try it at home and enjoy the pleasure of eating something new for breakfast, as I did.
Ingredients:
1 cup of organic buckwheat flour
1/4 tsp of aluminium-free bi-carb soda (baking powder)
1 cup of room temperature filtered water
2 tbsp of sunflower seeds
2 tbsp of pumpkin seeds
1 tbsp of sesame seeds
3 organic dried figs chopped into small pieces
1 tbsp of cinnamon powder
1 tsp of cardamon powder
a pinch of fennel seeds
a pinch of himalayan salt
2 tbsp of coconut oil (or ghee) for cooking the fritters and banana!
1 organic banana
1 tbsp of desicated coconut to garnish!
Creation Process: 
In a mixing bowl add the buckwheat flour, baking powder, cinnamon, cardamon and fennel.
Next slowly add a cup of room temperature water and mix with a wooden spoon until blended. (Feel free to add more liquid if you like it thinner).
Next add the chopped dried figs, sunflower seeds, pumpkin seeds and sesame seeds.
Add a pinch of salt and blend together with your spoon.
Melt 1 tsp of coconut oil  a good healthy non-stick pan and let it warm up for approx 4-5 minutes.
Pour a spoon of your mix into the pan. Cook until golden brown on one side then flip to cook the other side. Repeat to continue making more for the whole family! :)
Steps to cook the Banana garnish!
Slice a ripe (not too ripe though!) banana lengthways into thin strips. Warm a pan and add a touch of coconut oil so that the banana slices won't stick.
Lay the slices of banana on the pan and cook for 1-3 minutes on both sides.
Once your fritters are ready to be served, layer the banans slices on top of the fritters and garnish with a little desicated coconut to add that extra 'special' wholesome loving touch! :)
Enjoy!!

With love & wholesome loving goodness!

x Lorien