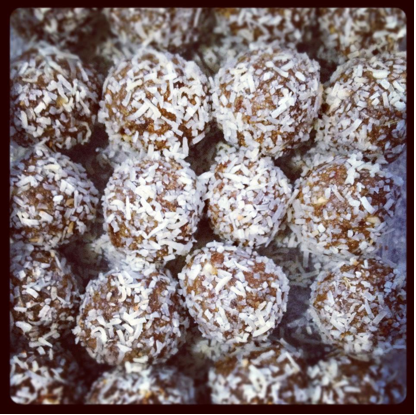 This was a new creation that I made for the recent SoulFire Spirit Adventure & Wholesome Loving Goodness retreat last week at Fraser Island. They were a hit!
Certified Organic Ingredients:
10 Medjool dates1 handful of raisins
10 Blanched almonds1/4 cup of toasted sesame seeds
1 tsp of cinnamon1 tsp of cardamon powder
1 tsp of fennel seeds
Half a tsp of ginger powder
3-4 tblsp's of coconut oil
1.5 cup's of desiccated coconut
A dash of organic vanilla essence
1 tsp of Organic Brahmi herb (For the brain!)
1 tsp of Organic Shatavari herb (For hormonal balance).
Method:
Place ingredients in a food processor & blend for a few minutes until all ingredients are mixed.
Roll into balls, and then roll the balls in a bowl of desiccated coconut to give them a finishing touch!
These balls are rich & full of energy. A great afternoon or mid-morning snack for a spicy, sweet, Ayurvedic inspired boost of energy!
Enjoy ♥ x
(Note: It is still possible to make these balls, without a food processor. If you do this, you need to cut the dates into small pieces and let them sit for a few minutes in a small amount of warm water to soften them slightly. Then cut the almonds into small pieces, add the other ingredients and mix in a large bowl with your hands! Keep mixing until creamy!)