Ingredients:
Ghee
Besan (chickpea) flour
Rice flour
Desiccated coconut
Sesame seeds
Sunflower seeds
Dates
Coconut sugar
Ajwan seeds
Fennel seeds
LOVE!
Method:
Add 1/2 cup of Ghee to a pan.
Add 1/2 cup of Besan flour and stir… we want to toast the besan flour.
Add 4 tablespoons of rice flour and stir.
Toast the flour in the Ghee on medium heat for approx 10 minutes or until it smells and looks toasted/darker.
In a separate pan dry toast 3 tbsp sesame seeds, 3 tbs sunflower seeds then pour into separate bowl.
In the same pan, toast your spices. Add 3 tbsp of Ajwain seeds & 3 tbsp of Fennel seeds. Toast until 'toasted', they will smell toasted and look toasted. Add the spices to a mortar and pestle and grind into a powder.
Chop 1 cup of dates into small pieces.
Now add the dates, ground spice and seeds to the pan with Ghee and Besan flour and stir.
Pour all ingredients into a mixing bowl, be careful, it will be hot still!
In mixing bowl add 4tbsp of coconut sugar and mix in with the flour, dates, seeds etc.
Wait for the mixture to cool, then using your hands roll into small balls and they are ready!
If they are not sticking together properly, add a little extra Ghee to assist with binding.
Enjoy warm or place in the fridge to allow the Ghee to cool and the balls to go hard.
A traditional Ayurvedic treat, warm, toasty and spicy with just the right amount of sweet to cradle you from Autumn into Winter…!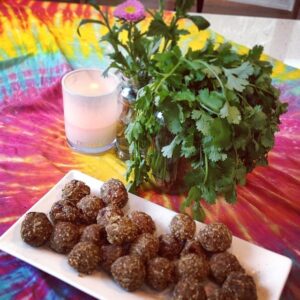 x Enjoy!
Love, Lorien