Porridge is so warming, nourishing & restorative for the body. Great for grounding your energy at the start of your day!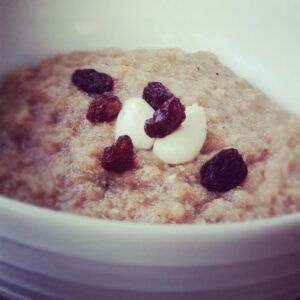 (Serves 2 people.) 
Certified Organic Ingredients:
2 tsp's of Ghee or Coconut Oil

2 cups of Quinoa flakes

1/2 tsp Cinnamon

4 Cardamon pods opened

Pinch of Fennel seeds

1 tbsp Jaggery, Coconut Sugar or Rapadura

4 Blanched Almonds

12 Raisins

3 to 4 cups of Hot water
Method:
1. Add your Ghee or Coconut oil to your pot & warm
2. Add Quinoa flakes & stir to toast the grain
3. Once smelling, looking & feeling 'toasted' add hot water & stir.
4. Add Cinnamon, Cardamon, Fennel & stir.
5. Add Raisins, Jaggery/Coconut sugar & stir regularly until Porridge becomes creamy & smells yummy!
6. Serve with 2 Blanched Almonds & some Raisins on top for presentation!
Enjoy!
Note: This Porridge can also be made with milk (un-homogenised, raw Organic milk is best). Simply use 1/2 milk and half water instead of all water.
*Feel free to add some more Water during the process if it looks to thick, and if it look too thin and runny you can add a few extra Quinoa flakes.