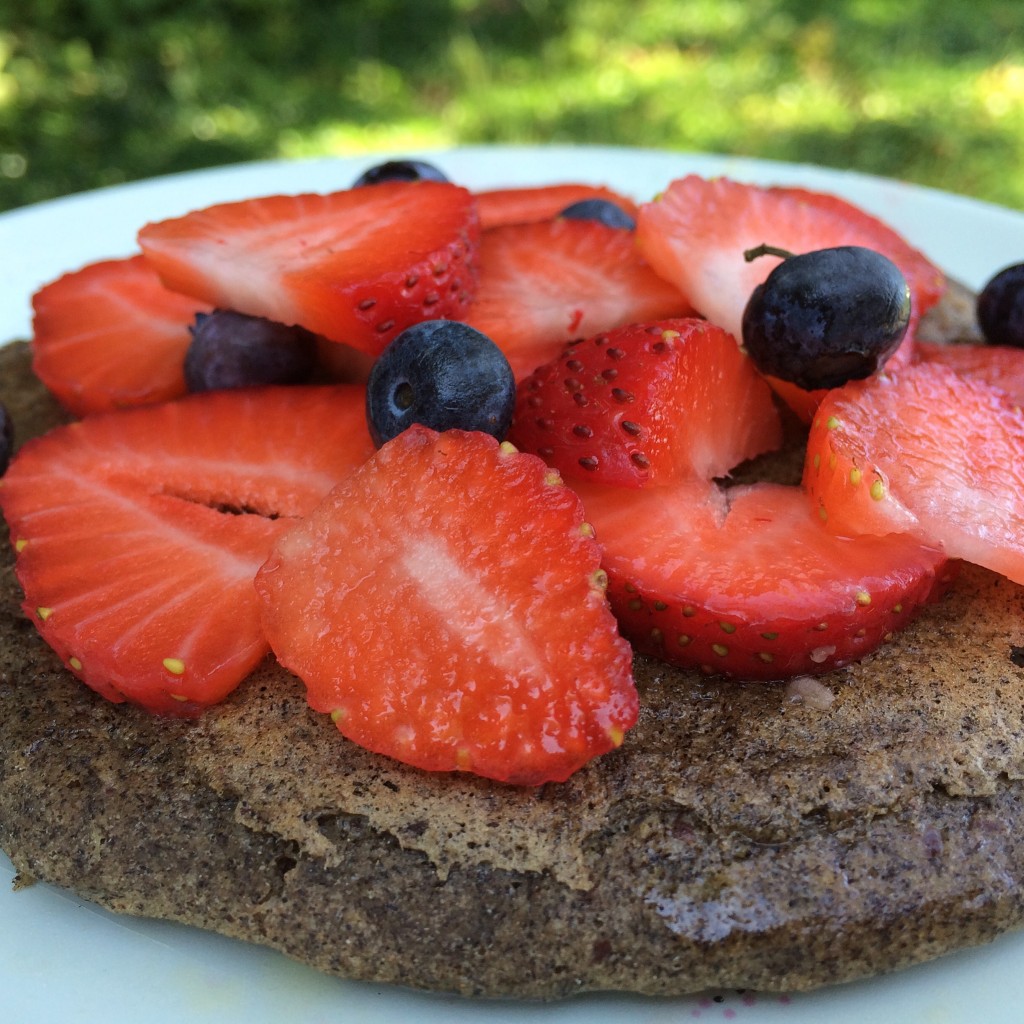 Fresh gluten-free buckwheat pancakes and organic berries for breakfast!! (pancakes made by Mary Murray in Toronto, Canada!) :)
Making the transition from eating wheat as a staple to eating gluten-free / wheat-free grains can be quite a daunting challenge and difficult at first to negotiate for many lovers of food out there who love their bread, toast, bagels, pancakes and pasta!
When choosing to embark on a 'wheat-free' journey there can be a lot of stress associated with having to learn to literally 'eat' again and figure out by yourself – what you CAN and can't eat to stay true to your new way of life.
What you may not know is that many gluten-free processed and packaged products you see on the super market shelf are not going to do your body ANY favours… They are just as bad, if not worse.
Cheap and often nasty gluten-free ingredients to be aware of in the supermarket: Corn flour, corn starch, corn syrup, maize, potato starch, tapioca flour & white rice flour. (+Anything that is not labelled certified organic! In a big super-market it will be genetically modified if not otherwise stated.) 
Why go wheat-free?
Wheat has changed A-LOT since humans started first eating it. Through the process of agriculturalisation – the precious and highly revered staple grain for many cultures has become less than a shadow self of what it once was. The nutrients and goodness that wheat may have used to offer has now diminished. Since we eat it so much as its used as a 'filler' or main ingredient in virtually everything, our bodies often struggle beneath the surface to deal with the large amounts of this stuff that we eat. It is very easy to eat 'wheat' 3-5 times in one single day these days, the supermarket is filled with wheat products –  your cereal, toast, sandwhich, biscuit, crackers, pasta, fancy cookies… it's all around. Wheat has made it in the big leagues ~ by far the most processed and consumed food product in the western world.
Common symptoms of eating Wheat:
Weight gain, inflammation of joints, arthritis, skin rashes, acne, pimples, obesity, malabsorption, fuzzy head, confusion, tiredness, diabetes, depression, high blood sugar levels, poor digestion, feeling heavy & fluid retention.
You don't need to live with any of these ailments – they are preventable through looking at your food and lifestyle choices. For many… wheat is the number #1 offender. Simply cutting it out 90% of the time can lead to drastic inspiring results, weigh loss, clear thinking, reduced pain and inflammation plus feeling good about life!
Good news: Choosing Wholesome 'Wheat-Free' Alternatives is Easy! 
It doesn't need to be so stressful! There are SO many delicious wonderful wholefoods you can eat and cook with to replace the wheats throne at your table!
My top 'Gluten-free' + 'Wheat-free' wholesome kitchen favourites:
Buckwheat pancakes, buckwheat bread, buckwheat crisp bread, buckwheat flour for cooking.
Quinoa flakes for porridge, quinoa flour for baking, whole quinoa for simply eating.
Millet flour for baking, millet flakes for porridge, whole millet for simply eating.
Amaranth flakes for porridge, amaranth flour for baking, whole amaranth for simply eating.
Brown rice flour for baking, brown rice flakes for porridge, whole brown rice for simply eating.
Besan (chick-pea) flour for baking, making pancakes and binding.
Mung bean pasta, adzuki bean spaghetti, black bean spaghetti (there are so many great grain-free pastas available nowadays in your local health food shop – just ask them!)
There are SO many great ingredients and foods that make the body feel good – AND that taste good. Try some of these favourites for yourself and remember, never stress – there is a whole world of delicious, simple and nourishing wheat-free foods out there for you to love and enjoy!
x Lorien