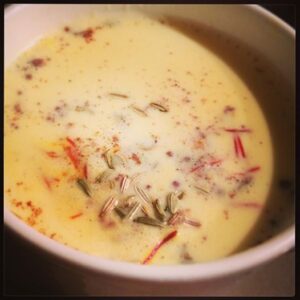 Warm Ayurvedic Milk with Saffron, Cinnamon & Fennel!
A super-charged, Ojas boosting , yummy, rejuvenating, warming, reproductive tissue-nourishing Ayurvedic drink!
Milk: Dairy milk can be very nourishing for the deeper tissues in the body, particularly the reproductive system. When using milk, consider it as being 'medicine'.  This means that we want to honour the milk and take it with awareness and moderation.
A few tips to make your milk easier to digest:
Always boil your milk. Milk is heavy and cool in nature and through the process of heating milk and consuming it while warm, we make the milk warmer, lighter and easier to digest. The process of heating milk also purified the milk, making it more potent and digestion friendly!
Always use organic, un-homogenised Jersey milk where possible. The milk from Jersey cows is called 'A2' milk and this milk has been shown to be easier to digest than the milk that comes from 'fresian' cows, a different breed. In India, the cows that provide milk are Jersey cows. It is important to use un-homogenised milk as the process of homogenisation spins the fat particles so fast that they get dispersed and separated. When the body takes in this milk that has been altered, it doesn't know what to do with it, as the particles don't match up the way they ought too. This creates an inability for the body to digest the milk and can cause a range of upsets and intolerances to dairy.
Add spices to make the milk easier to digest, improve your digestion and allow for proper nourishment to occur. Spices such as Cardamon, Cinnamon, Ginger, Fennel and Saffron go wonderfully with milk and they taste and smell delicious!
Drink as medicine and use in moderation. A warm milk before bed is wonderful simple remedy to calm and sooth the nervous system, nourish the tissues, rejuvenate the reproductive system and build up 'Ojas', which is like our 'life-force', essence, juice, glow, joy in life!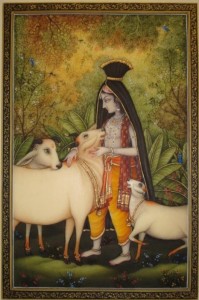 Art by: Devendra Sharma
Happy Spicing and boiling friends! :)
Feel free to write a message for any further questions on Milk!
(A comments section on the website shall be installed soon!) :)
x Love Lorien