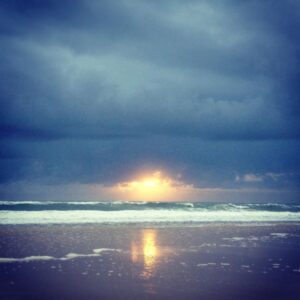 The first sunrise of Autumn.
Summer has delighted us with it's warmth and now it's time for a change…
Autumn has arrived, a season in Ayurveda that is governed by the air and ether elements, (Vata).
When we have a change of season there is naturally extra movement in the environment. Leaves start to fall, the wind might become stronger and the temperature becomes a little hotter or cooler.
These changes happen thanks to our friend, 'Vata' who looks after movement both in our bodies and outside in nature.
Wherever there is change, there is Vata.
Autumn season is naturally a 'Vata' predominant season. The qualities of Vata are cold, dry, rough, fast, mobile and changeable.
Autumn shares these same characteristics. It is easier for our skin to become drier, to be busy, to have irregular digestion and feel colder inside during this time. Since it is a change of season (Vata), that is moving into a 'Vata' season, we have a double up!
This means it could be a very creative time of year where it is easy to get a lot done, however it is extra important at this time to balance all the extra activity and change in the air with some balancing and grounding food and lifestye practices.
A good way to think about looking after the air and ether elements in your body is to treat this part of you with the same care, nurturing, kindness and love that you would give to a beautiful old lady! This sounds strange, however can be a very helpful way to approach your sensitive and magical 'Vata' intelligence.
Vata is fragile and loves softness, warmth, nourishment, love and kindness. Having cups of tea (herbal is preferable), warm home-made food, foot massages, listening to sweet music and having a routine throughout the day will all nourishing and support your body to be balanced and happy.
When there is a change in our physical environment, living situation, work, stage of life or season, we not only experience a transformation on the outside, but also on the inside.
Taking extra special care of your body during these periods of transition and looking after your inner sensitive nature can help to keep you grounded, stable and keep your channels flowing.
Some Simple Vata Balancing Lifestyle tips:
 Drink warm water throughout the day. This will ground the air element in your body and keep your body feeling soft, supple and your channels flowing.
 Find some routine, with regular meal times, a regular Yoga class or Chi Gong practice can be great for guiding your body through the change.
 Give yourself a massage at home (Abyhanga) 3-5 days a week with warm Cold Pressed Black Sesame Oil to ground your mind, strengthen and nourish your tissues and support  your body during this time of change.
Aim to wake up by 6am, during the time of the morning when the air element (Vata) is dominant. The qualities in the environmenet at this time of day make it easy to have proper elimination of the wastes in your body, allowing you to feel calm and have clear channels.
Favour eating warm, light Vegie soups, Dhal's, Kitchari and warmed Vegies. Vegetable's like Pumpkin are great during this time of year and have a nice grounding effect on the body.
Spend time connecting to yourself. Journaling in a book, letting go of stagnant thoughts so that there is a clear space for new ideas and inspirations for the coming season.
Autumn is a beautiful time of year, the seasons have so much to teach us about ourselves. Nature is a reflection on the macrocosmic level of what is inside of us on the microcosmic level.
Happy Autumn and sweet transitioning!
x Lorien